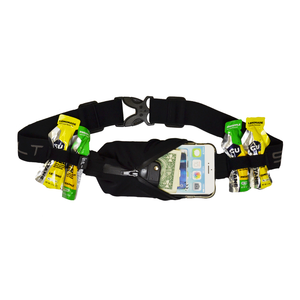 Built for comfort and durability. Like our popularPerformance Series, the Performance Pro has a weather-resistant zipper and pocket that will help keep essentials safe from the elements or a sweaty run. The spacious pocket will hold any phone on the market and has four gel loops on the elastic band to hold your energy gels. Great for strenuous activities like trail running, marathons, or adventure races. The elastic on this belt is 1.5" wide, 50% broader than the Original SPIbelt.
Made in the USA: Austin, Texas
Bounce-free
Expandable, secure, low-profile pocket
Comfortable, soft elastic prevents chafing
Sturdy buckle and glides for even the most active users
Pocket expands to 9″ x 4″ x 2″
Fits waist size 28″ through 44″. Need a few more inches added to the waistband? Get our Belt Extender PRO.
1.5" wide elastic
IMPORTANT: This product is not waterproof. Items may be exposed to moisture. We recommend the use of a waterproof aLOKSAK® re-sealable bag if using with electronics or other small personal items that must remain dry. We suggest turning off electronics to prevent internal heat and moisture build-up.